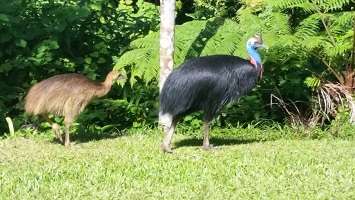 Our 2019 Tour Season has now finished. We are availble for group bookings/charters for eight or more people, by arrangement.
Have you touched a Buddha's Hand, know the smell of All Spice picked fresh from the tree or tasted Abiu, Amazon Custard Apple or Yellow Dragon Fruit?
Fruit Forest Farm's tour will transport you to an exotic oasis, flourishing with a bounty of exotic fruits, plants and a rich cultural history.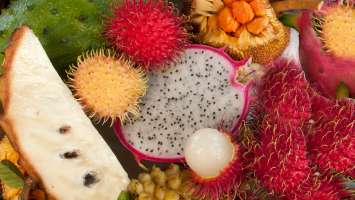 The tour is an all weather tractor and trailer experience. You'll meet the farmers and experience exotic fruit farming first-hand.
Enjoy a refreshing exotic fruit drink on arrival and the sensory delights of tasting and touching fruits and plants throughout the tour.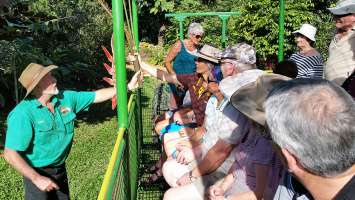 Find us at: 669 East Feluga Road, Mission Beach, Queensland, Australia (Turn off at Tully-Mission Beach Road or Bruce Highway)

Tours operate April to September: Saturdays 2.30pm - 4.30pm (Special tours can be made by arrangement)
Prices: Adult $48, Child (4-16 years, under 4 free) $38, Concession $43, Family (2 adults & 2 children) $158
(Includes 2 hour guided tour, fruit tastings and complimentary exotic fruit drink on arrival)

BOOK ONLINE or call us on 0467 309 958
EFTPOS and cash payment facilities are also available on site.