Crystallised Pomelo Pith
Ingredients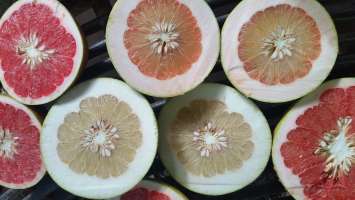 500ml pomelo pith squares
500ml sugar
10ml vanilla essence
10ml lemon juice
icing sugar
Method
Grate or cut all rind off pomelo. Cut fruit into quarters. Remove skin, and cut pith into 25mm squares.
Soak in water for 12 hours. Change water and soak for another 12 hours.
Drain pomelo pith, squeezing all water out.
In a large pot, scald pomelo for about 6 minutes in boiling water, drain. Do not squeeze water from pith.
Add sugar, lemon juice and vanilla to pomelo pith.
Simmer, stiring occasionally, until all liquid is absorbed and pomelo leaves the side and bottom of pot when stirred.
Take out one piece at a time, put on a tray covered with icing sugar. This prevents pieces from sticking together when cold.
Store in an airtight container, refrigerate in hot weather.
Durian Lime Pie
Ingredients:
1 x pie shell or biscuit cheescake base
2  egg yolks
1/3 cup lime juice
1/2 cup sugar
gelatine (2 - 3 tsp)
Place the above ingredients in a saucepan and cook over low until thickened. Add gelatine and allow to cool.
Pie filling:
1 cup durian pulp
1 packet of Philadelphia cream cheese
1/2 cup sour cream
grated lemon rind
Blend the above ingredients together, add cooled lime sauce and add to shell.
Chill to set and decorate with lime rind.
Guanabana Cheescake
1 x pie shell or biscuit cheescake base
Ingredients
250g (1 cup) cream cheese at room temperature
400g condensed milk
85mls (1/3 cup) fresh lemon juice
250 ml (1 cup) pureed guanabana pulp
2-3 fresh passionfruit
Beat cream cheese until smooth. Slowly add condensed milk while beating. Add lemon juice and pureed guanabana, beat well.
Pour into pie shell and set in the fridge. (Can also be frozen). To serve top with plenty of passionfruit.